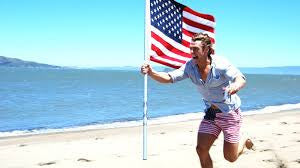 5 Ways to make sure your 4th of July BBQ is Bomb as "F"
The BBQ in the USA is one of the most enjoyable parties of the year. It signifies that summer has truly started, that the weather is warm and that we still live in a country free of tyranny (at least for now).  
So when you throw down to give people a place to celebrate, make sure you've got the basics.  Start with a bunch of stuff thats red white and blue, add in your favorite friends, family, and neighbors and then remember to consider these 5 things to make the whole shebang top notch.
1. Music: Don'ts and Dos.
DON'T -   let your best friend's cousin (who you've never met) set up his PA so that he and his new "band" can play Insane Clown Posse  covers. Nobody wants that. Heck no body even wants the cute likeable kid from down the street to strum out acoustic Jack Johnson covers for 2 hours (or minutes).
Live entertainment is great!.  But make sure you have vetted the performer and that they are appropriate.  Make a schedule for their performance times so that if the music goes south (once they've run out of their "good stuff") you'll have a predetermined stop time. 45 minutes on and 15 minutes off for 2 sets is a good starting point.  
DO – Make a playlist of fun summertime feel good hits and mix in some classic Yacht rock party tunes for nostalgia.  Don't know what any of those terms mean?   No worries, simply open up spotify and type in "BBQ Playlist" or "Yacht Rock" and wah-la!
Or check out ZB Savoy's "Off the Chain 4th of July BBQ Party Mix Playlist" on spotify right here.
2. Give the people what they really want… a place to sit.
 Its hard enough to eat barbequed ribs and corn on the cob without spilling them all over your fancy white shorts. Having to do it while you stand up and also try to hold a beer in your other hand is just cruel and unusual.  A simple investment by the party thrower into the rental or purchase of a few fold up tables and chairs or a few belly bars will let your guests know that you care about them and their post memorial day white clothing.
3. Cornholio!       
 Games.  A couple  of them!  Cornhole's popularity seems to be trending ever higher.  It is simple to play, simple to travel with, hell its even simple to make.  The real beauty of it is that it requires very little concentration.  One can be focused on food, conversation and beer drinking (the real priorities of any BBQ) while cornhole can just be the thing that makes you move from one side of the party to the other when its your turn.  If you have limited space and limited help organizing your shindig, choose simple casual games like bocci ball to overly ambitious sprawling set ups like Croquet.
 4. Cardiff Crack (…and other foods)
 If you don't live in San Diego, well… I'm sorry. Partly for you having to deal with temperatures lower than 70 or higher than 76. But mostly because it means it is that much harder for you to get Cardiff Crack from Seaside Market.
Cardiff Crack is not meat, it's a hefty, bloody slice of heaven on a grill.  You can be a terrible BBQer and significantly over cook this meat and it is a near guarantee that you will still get compliments aplenty about how delicious it is!
If you must rough it with some other form of Tri Tip, just remember that it is not frowned upon to buy a pre-seasoned, pre-marinated meat, especially if it means that that meat ends up being super duper delicious.
Other Must Have Foods…Corn on the Cob, Mac and Cheese, Coleslaw, Water Melon, Grilled Veggies.
Other Meat Options…Pulled Pork Sandwiches, Burgers and Dogs, Rotisserie Chicken.
5. Booze
 Beer, Beer and more Beer...and also  some cocktails.
If there is an adult beverage more American the a cold Budweiser, then I may be the next president of the United States.  And while you never want to over serve your guests, you sure as shnittzzle don't want to be that party that runs out of beer. Oh the embarrassment. Buy plenty, cut off the drunk people.
There are a bunch of great 4th of July appropriate cocktails.  Lean towards light summer drinks like Mojitos, Sweet Teas, heck even Margaritas (its been a whole month since Cinco de Drinko) and while the temptation to make red white and blue cocktails is real... I personally just can not get behind any liquid that is blue.
 So Have a good time, stay safe, and if you can't see at least one fireworks show from your house, forget everything you just read and make one of your buddies with a better view throw the damn party.
'Merica.
---